Before last week, I thought that, as Elle Woods once said, "The rules of haircare are simple and finite," but after attending Occupational Hazards: What's Hair Got to Do With It?, I realized that is anything but the case. The keynote speaker at the event, the fabulous Professor D. Wendy Greene, focused her discussion on grooming code discrimination in the workplace and how such discrimination disparately impacts black women.
If you're saying to yourself, "What's grooming code discrimination?" That's okay. I was right there with you up to that lecture. A grooming code is a standard issued by employers that employees are expected to meet in terms of appearance. Grooming code discrimination occurs when the standard disparately impacts one group of people-- typically, in cases such as these, that group is black women. This issue is a complex one that's caught elements of sex and race discrimination as well as society's shifting understanding of race, cultural stereotypes, and standards of professionalism its tangled web.
We're all maybe-baby lawyers and actual attorneys here, so let me make it more comprehensible by breaking it down into two parts: the legal issue and the reality.
Legal Issue: Whether there should be a balance between the employer's prerogative to have professional-looking employees and an individual's right to bodily integrity and freedom of expression. Currently, the employer's prerogative dominates, largely in part, because Title VII of the Civil Rights Act of 1964 does not extend to hair. One of the main reasons that hair is not protected is that as is hair a mutable characteristic, a hairstyle is considered a cultural choice rather than an integral part of a person's identity. The fact that the way one's hair grows naturally cannot be changed is not a factor. The fact that certain hairstyles are worn as a way to maintain certain natural hair types is also not considered.
Reality: It is currently perfectly legal for employers to have a say in how people style their hair. This can go far beyond the innocuous, "Please fix your hair as it's disheveled. We have clients coming into the office today, and we want everyone to look their best to make a good impression." There have been instances in which employers have policies where they ban certain hairstyles outright and in which companies require employees to ask their supervisors for permission before changing their hair as the new style must be approved.
Employers' ability to establish grooming codes typically affects black women more than other groups. The Good Hair study released this January showed that there is a bias against black hair in favor of white hair. Additionally, one in five black women feel social pressure to straighten their hair for work — twice as many as white women. Often due to cultural biases, certain hairstyles, such as twists, cornrows, and dreadlocks, are considered to be unprofessional. For example, Chastity Jones, a black woman in Alabama, had been offered a job with Catastrophe Management Solutions, yet found her offer rescinded when she refused to change her hairstyle from dreadlocks to something presumably more professional-looking. It was explained to her that the company had a policy that prevented employees from wearing their hair in dreadlocks. The company's HR representative explained as to why: "They have a tendency to get messy." Which begs the question, "Is there a hairstyle that doesn't get have a tendency to look messy from time to time?" If so, I'd love to try it out.
In the above case, the 11th Circuit Court of Appeals ruled in favor of the employer, effectively holding that it is legal to discriminate against those who wear dreadlocks. Holdings such as the 11th Circuit's and other courts' opinions issued in response to this issue reinforced the status quo by failing to identify hairstyles as an immutable part of an individual's racial identity. Effectively, there is no protection extended because as black women's hair can be changed, albeit not always easily, employers can require that it should be changed to comply with their standards.
In contrast, in 2014, the military did an about face and adopted a racially sensitive grooming code that is receptive to the unique needs of black servicewomen. The military now permits previously forbidden hairstyles that servicewomen lobbied for as those styles as can be more easily maintained than others and do not interfere with active duties. Should they choose to, black servicewomen can now choose to wear a twisted or braided style rather than cutting their hair short in a pixie-style cut or relaxing their hair to match the styles of other servicewomen with naturally straight or curly hair. Of course, whatever style black servicewomen choose is expected to look sharp and professional daily, just as any other military personnel's hair would be expected to be.
Before: In addition to regulations that affect women of all hair types, certain past regulations specifically forbade hairstyles worn mostly by black servicewomen, as seen below. Note that the number of braids and the regulation of width effectively forbade cornrows.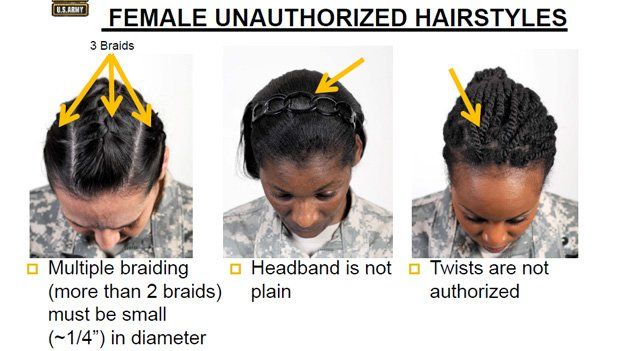 After: Black servicewomen can choose to wear their hair in either of the styles below and still meet military regulations.
Civilian courts should take a cue from the military and demand that grooming code standards preserve the individual's bodily integrity and recognize the personal freedom that all employees should have to style their hair as they see fit, without fear of reprimand or termination.
We as private citizens have all sorts of different hair types and styles. There need not be a standoff between employee and employer over what styles are more professional as long as an employee's hair is well-kept. We have the opportunity to support black women by calling for the adoption of grooming codes that are more sensitive to different hair types, and, in turn, different styles, to eliminate hair as a source of sex and race discrimination in the workplace. We all have the propensity to let our hair look messy and less than professional from time to time! We should all have the choice to exercise our personal autonomy and freedoms to style our hair how we choose and in turn accept the responsibilities to keep our hair looking its best.